Apicoltura Artemide, dal 1922, una lunga tradizione nata da una grande passione …
I Mieli Artemide sono tutti di produzione propria, di origine italiana e confezionati nel proprio laboratorio aziendale.
Dall'inarrestabile laboriosità delle api e da un'accurata gestione ed allevamento dei propri alveari, derivano i nostri prodotti che costituiscono una vera fonte di energia e benessere totalmente naturale.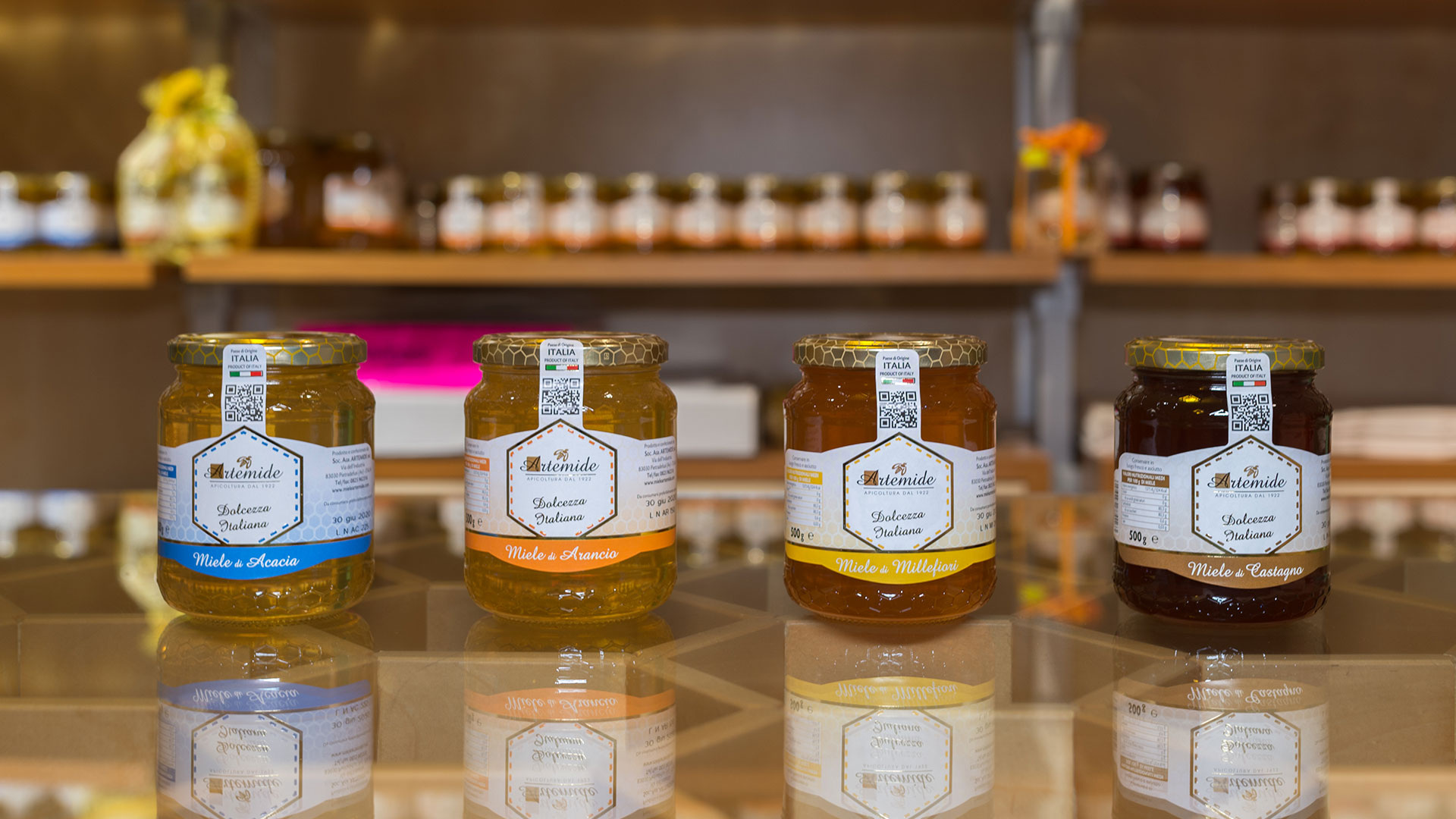 I nostri Mieli
I Mieli Artemide sono tutti di produzione propria, di origine italiana e confezionati nel proprio laboratorio aziendale.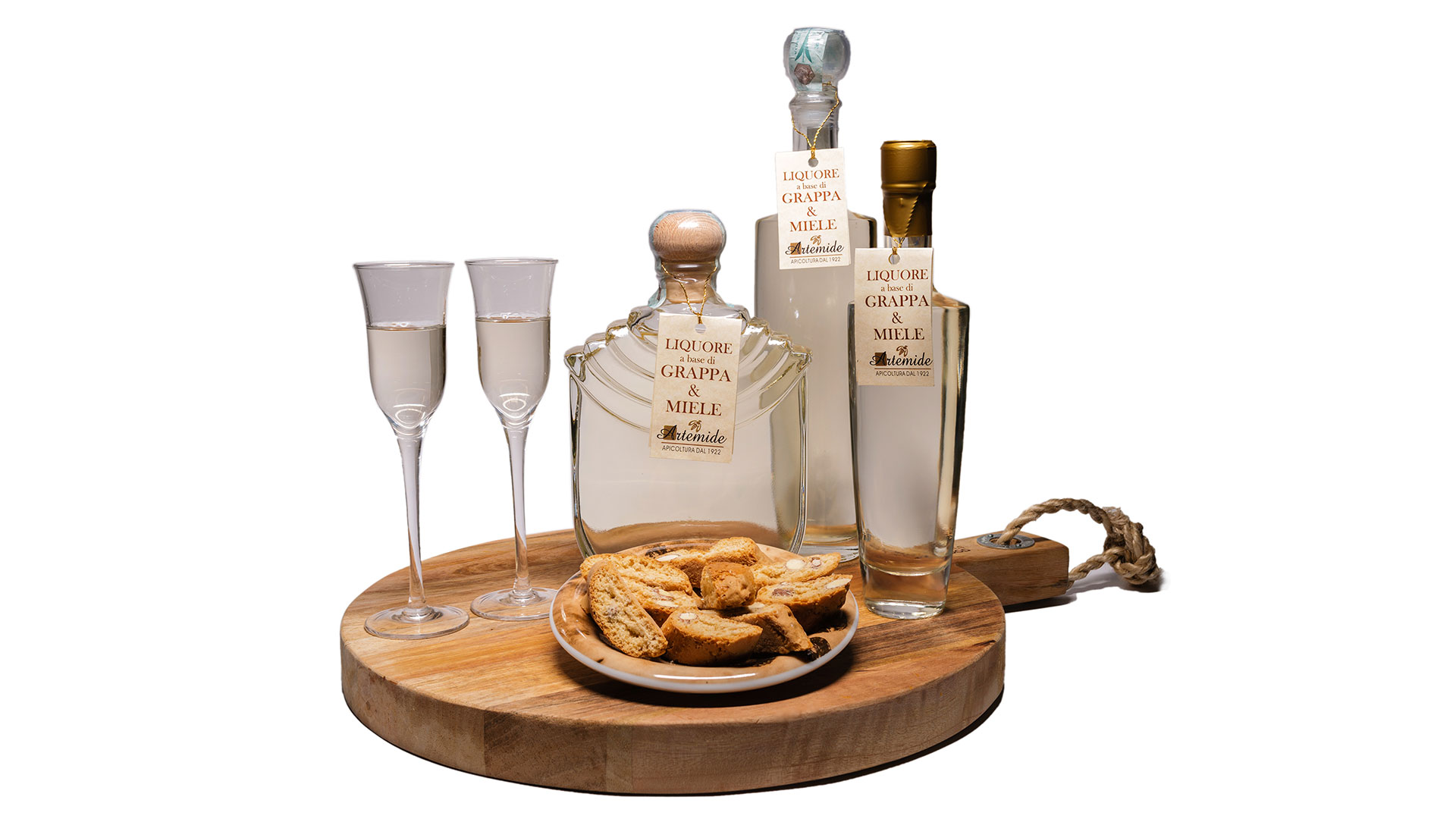 Le grappe
Ottimo come fine pasto, accompagnato con pasticceria secca, mandorle e nocciole …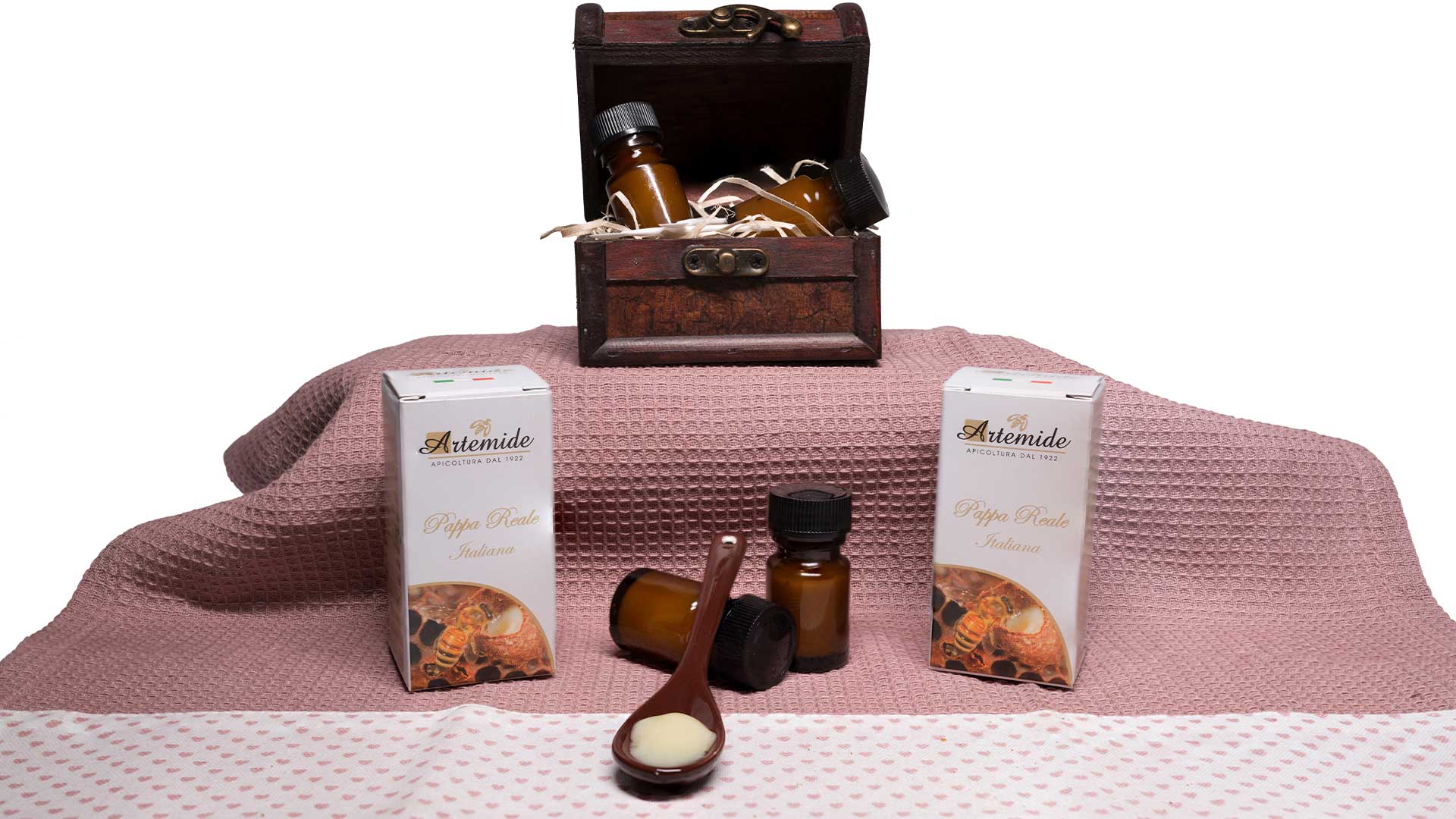 Pappa Reale
Artemide produce pappa reale pura, senza alcuna manipolazione …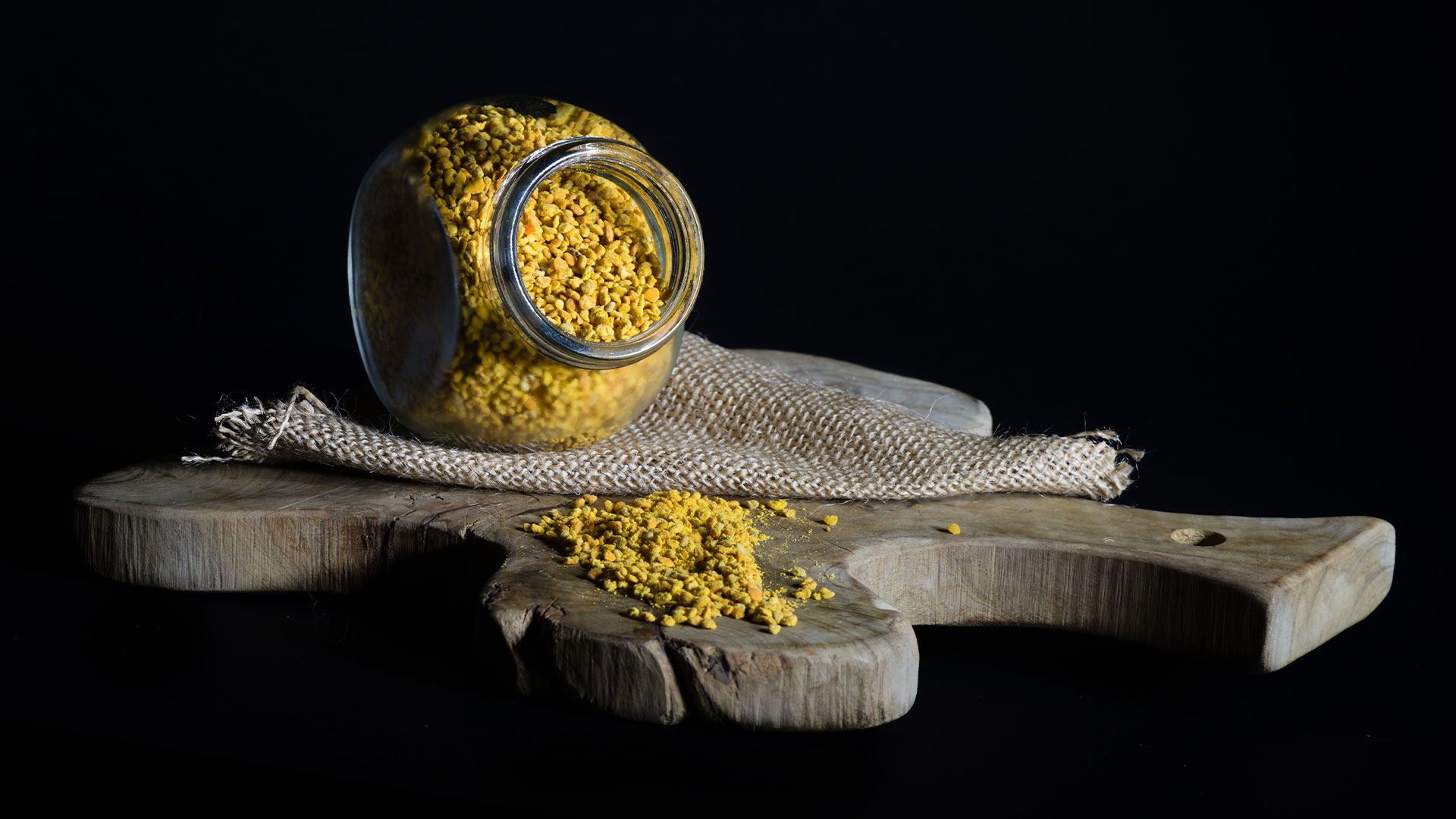 Polline
È una delle sostanze più ricche che la natura ci offre …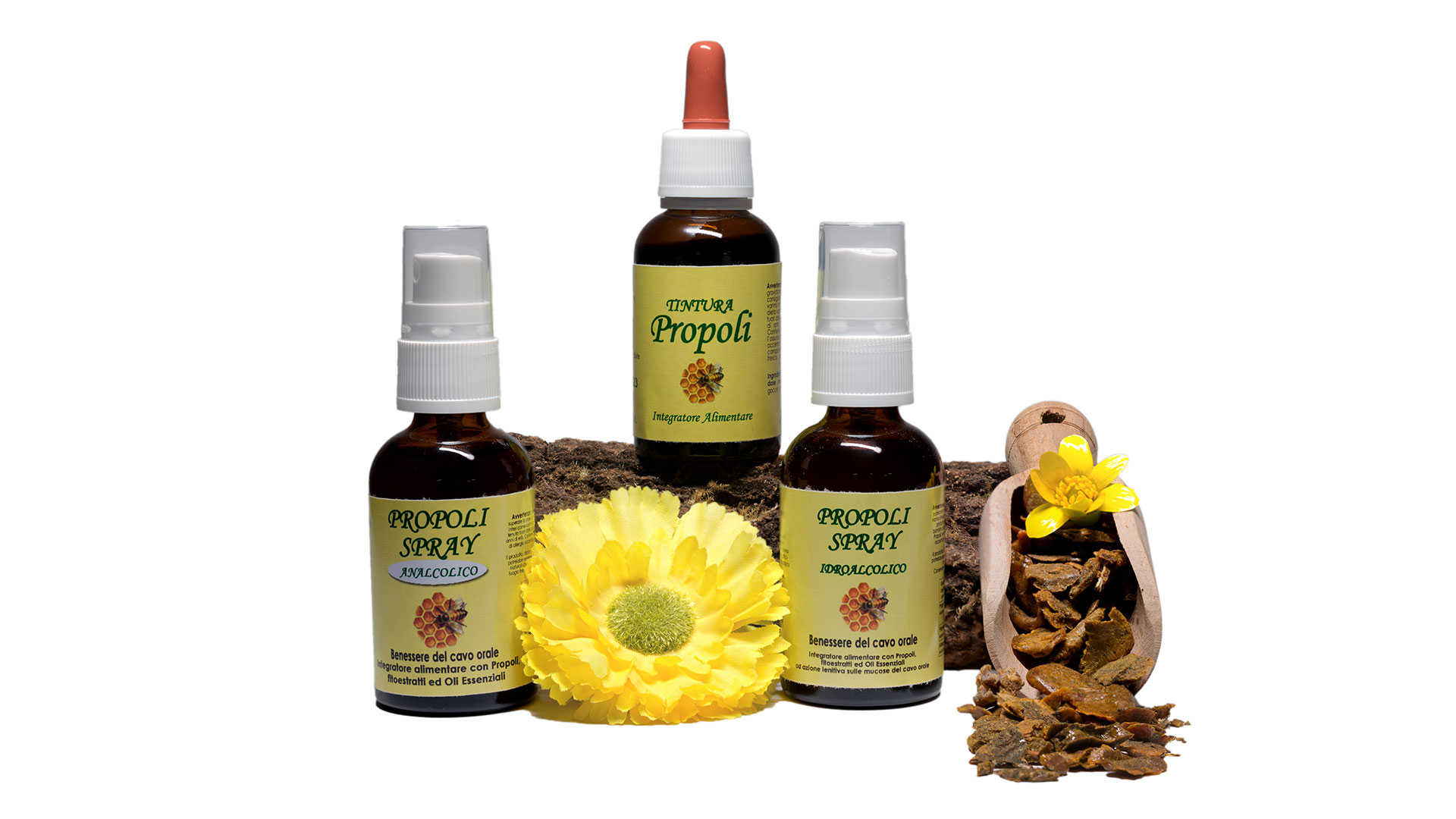 Propoli
È una soluzione perfetta per la prevenzione e il benessere delle vie respiratorie …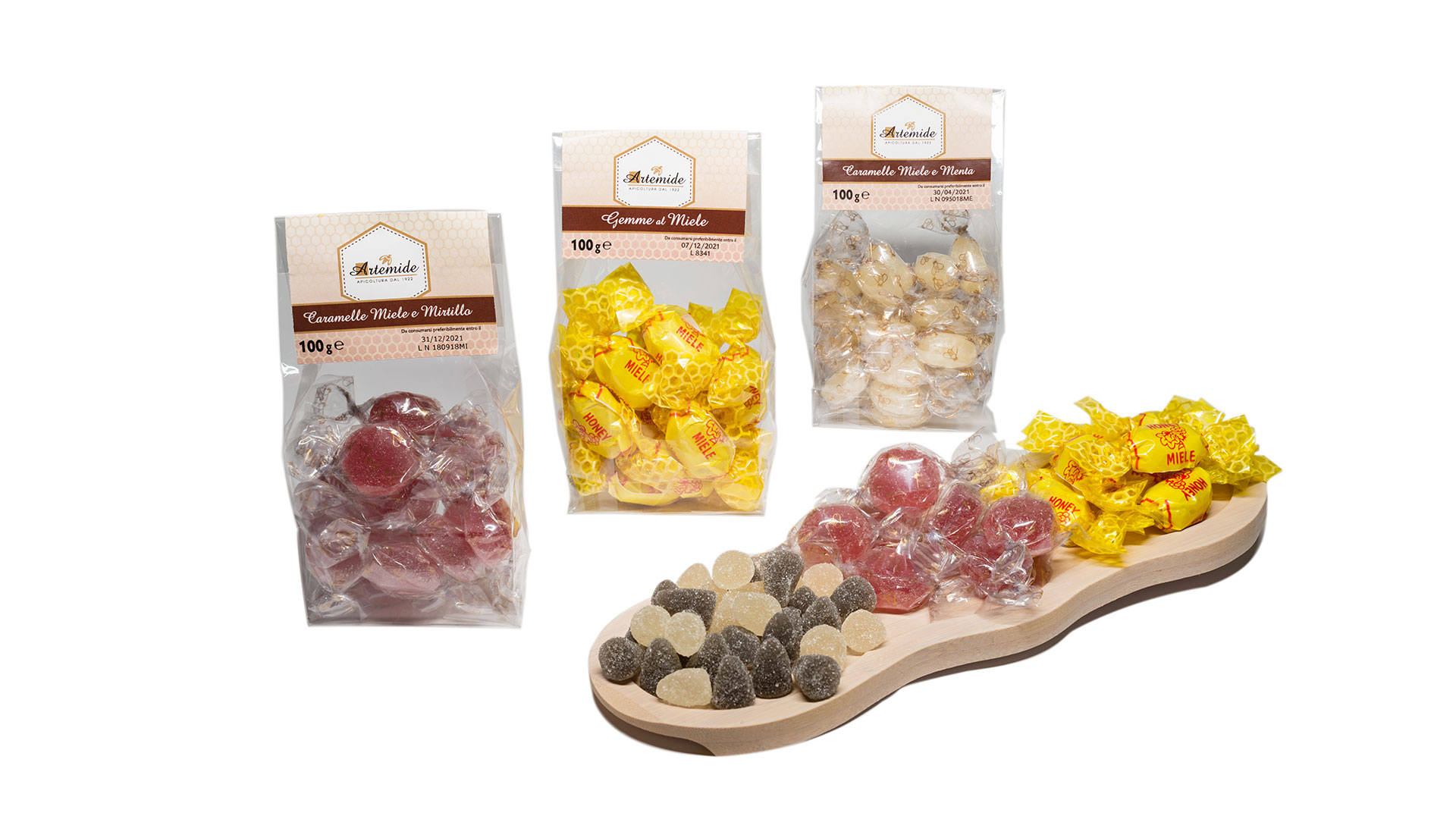 Bontà al miele
Gli ingredienti, tutti naturali, rendono un concentrato di gusto …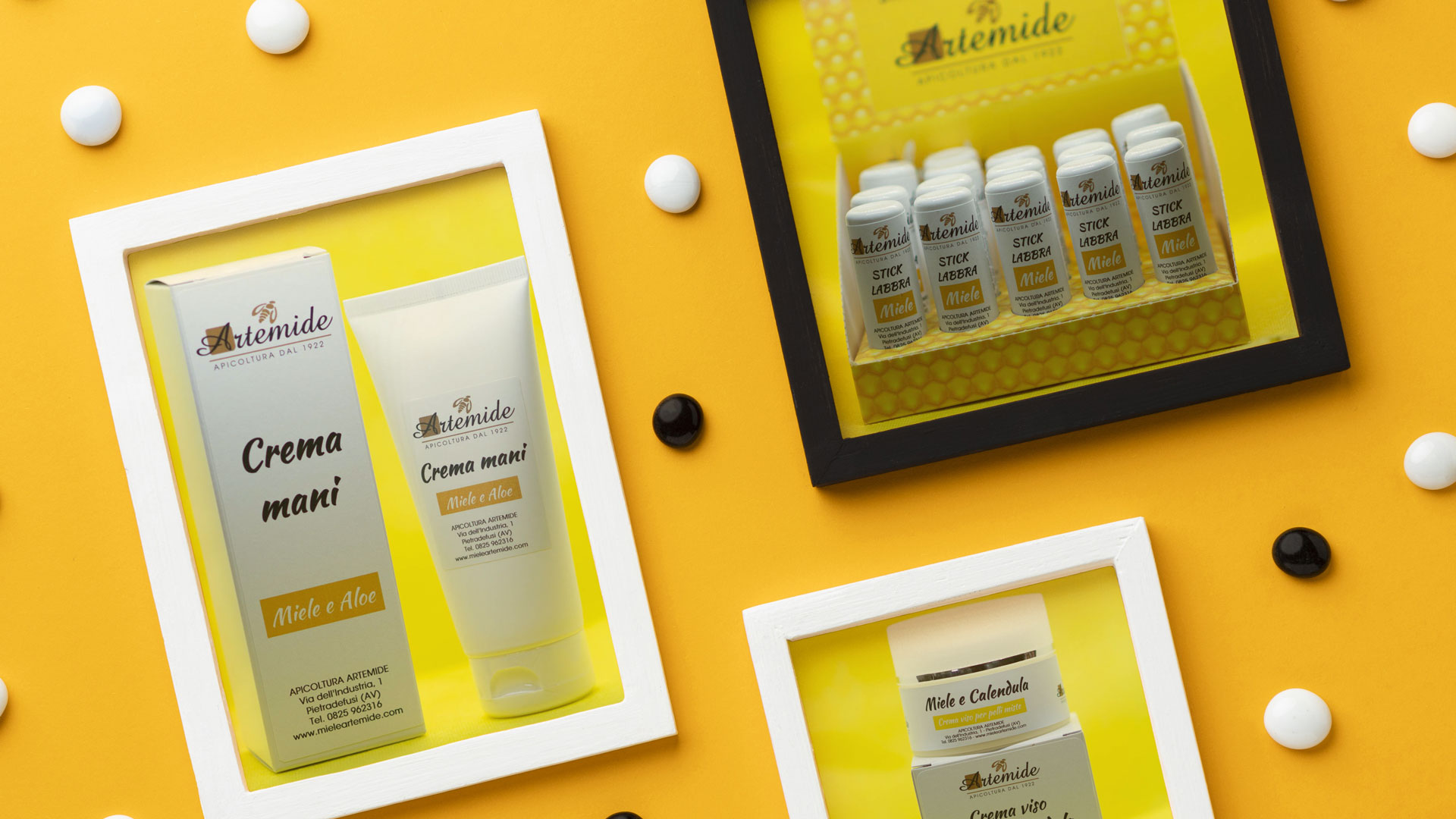 Apicosmetica
Dal miele una linea completa di prodotti per la cura e la bellezza del proprio corpo …
Qui trovate tutti i nostri ultimi articoli: novità del settore dell'apicoltura, ricette, approfondimenti e tanto altro.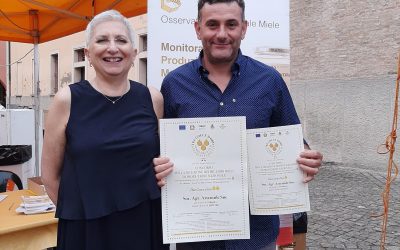 L'Osservatorio Nazionale Miele organizza ogni anno il Concorso Tre Gocce d'Oro – Grandi Mieli d'Italia con l'obiettivo di identificare i...
Scopri cosa dicono di noi!
Ecco cosa pensano di noi i fan su Google!
Ottima accoglienza, prodotti di qualità e buoni. Consiglio vivamente. ❤️ (Translated by Google) Excellent welcome, quality and good products. I highly recommend. ❤️
Chiara Mercurio
18 November 2021
Ho scelto l'ottimo miele dell'apicoltura Artemide come bomboniera per la Comunione di mia figlia. Pienamente soddisfatta del risultato. La confezione è bellissima ed il miele di qualità! Disponibilità e gentilezza di Rossella veramente impareggiabili! (Translated by Google) I chose the excellent Artemide beekeeping honey as a favor for my daughter's Communion. Fully satisfied with the result. The packaging is beautiful and the quality honey! Availability and kindness of Rossella truly incomparable!
Marianna Croce
11 October 2021
Ottimo prodotto.Per la laurea di mio figlio..ho scelto come bomboniera dei vasetti di miele......bravissima anche nel confezionarle (Translated by Google) Excellent product.For my son's graduation ... I chose honey jars as a wedding favor ... also very good at packaging them
Antonietta Conte
15 September 2021
Servizio ottimo. Cortesia, puntualità, precisione e in aggiunta i prodotti ottimi fanno di questa azienda un punto di riferimento per tutti gli amanti del miele. Sicuramente acquisterò di nuovo da loro. Grazie di tutto. (Translated by Google) Great service. Courtesy, punctuality, precision and in addition the excellent products make this company a point of reference for all honey lovers. I will definitely buy from them again. Thanks for everything.
Mariaserena Marandola
10 September 2021
Cortesia, disponibilità e tanti prodotti di qualità! Miele, caramelle, candeline, saponette e altro ancora..tutto rigorosamente legato al mondo delle api. Ci siamo rivolti ad Artemide per i segnaposto del nostro matrimonio e il risultato è stato splendido! Grazie mille Rossella per la tua gentilezza e per aver accontentato i miei desideri! Consigliatissimo!! (Translated by Google) Courtesy, availability and many quality products! Honey, candies, candles, soaps and more ... all strictly linked to the world of bees. We turned to Artemide for our wedding place cards and the result was splendid! Thank you very much Rossella for your kindness and for having satisfied my wishes! Highly recommended !!
Emilia Scudiero
4 September 2021
Mi sono affidata a Rossella per le bomboniere e i segnaposto del mio matrimonio. Il risultato è stato davvero meraviglioso grazie alla pazienza e alla professionalità dimostrata.. lo consiglio vivamente! (Translated by Google) I entrusted myself to Rossella for my wedding favors and place cards. The result was truly wonderful thanks to the patience and professionalism shown .. I highly recommend it!
Michela Papotto
16 July 2021
Negozio con un vastissima scelta di miele e altre confetture di grandissima qualità, personale professionale, cortese, gentile e sempre a disposizione con il cliente...🔝 (Translated by Google) Shop with a huge selection of honey and other jams of the highest quality, professional, courteous, kind and always available with the customer ... 🔝
Elisa Genito
25 June 2021
Gentilezza e disponibilità,cura dei dettagli che fanno la differenza.Hanno realizzato le bomboniere per la prima comunione di mio figlio e questo è il risultato strepitoso!!!!grazie ancora di tutto (Translated by Google) Kindness and availability, attention to detail that make the difference.They made the favors for my son's first communion and this is the amazing result !!!! thanks again for everything
Stefania Ricciardiello
31 May 2021
Cordialità, vasta scelta di mieli gustosi nei più variegati tipi (sulla, millefiori, arancio, eucalipto, coriandolo, trifoglio, ciliegio, castagno) e formati (mini per degustazione, fino ai più grandi da 500 gr). Disponibile cosmesi (non del tutto naturale) con derivati delle api (miele, propoli). (Translated by Google) Friendliness, wide choice of tasty honeys in the most varied types (sulla, millefiori, orange, eucalyptus, coriander, clover, cherry, chestnut) and formats (mini for tasting, up to the largest of 500 gr). Available cosmetics (not completely natural) with bee derivatives (honey, propolis).
Maria Iannaccone
28 January 2021
Un ottimo prodotto si sente la genuinità e la preparazione accurata. Per chi volesse può seguire i miei percorsi enogastronomici sulla pagina instagram irpiniaviaggiaeassaggia dove ho per obiettivo far conoscere le realtà della nostra Irpinia. (Translated by Google) An excellent product feels the authenticity and careful preparation. For those who want, you can follow my food and wine tours on the instagram page irpiniaviaggiaeassaggia where I aim to make known the realities of our Irpinia.
Carmelina Di maio
11 November 2020
Negozio essenziale, lindo, colorato. Diverse idee regalo sfiziose ed economiche. Laboratorio di produzione propria, ampia scelta di possibilità. Da frequentare, per gli amanti del naturale (Translated by Google) Essential, clean, colorful shop. Several delicious and cheap gift ideas. Own production laboratory, wide choice of possibilities. To attend, for natural lovers
Cate
29 June 2020
Prodotti di alta qualità e ottima accoglienza (Translated by Google) High quality products and excellent hospitality
Angela Vozzella
29 October 2019
Cosa dire.. Conosco i loro prodotti da anni.. Ho scelto di fare dei segnaposti per il battezzo del mio cucciolo.. Semplicemente fantastici.. Grazie Rossella per la gentilezza e la cortesia.. (Translated by Google) What to say .. I know their products for years .. I chose to make placeholders for the baptism of my puppy .. Simply fantastic .. Thanks Rossella for kindness and courtesy ..
Luca Mariano
8 October 2019
Ho trovato professionalità, qualità e cortesia. Miele eccezionale (Translated by Google) I found professionalism, quality and courtesy. Exceptional honey
claudia totti
2 October 2019
Ho scelto come bomboniere per il battesimo di mia figlia il miele di Artemide. Scelta originale e soprattutto apprezzata da tutti gli invitati! Miele di ottima qualità, naturale. C'è l'imbarazzo della scelta per quanto riguarda i gusti; io ho scelto il miele di ciliegio. Anche la confezione fatta da Rossella ha riscosso grande successo! Etichetta personalizzata, nastri, tutto perfetto insomma! (Translated by Google) I chose Artemis honey for my daughter's christening. Original choice and above all appreciated by all the guests! Excellent quality natural honey. There is plenty of choice with regards to tastes; I chose cherry honey. Even the package made by Rossella has been very successful! Personalized label, ribbons, everything perfect in short!
roberta brogna
25 September 2019
compro il loro miele da qualche anno, ottimo e non ho mai avuto "problemi", il punto vendita è accogliente e la proprietà è sempre stata disponibile e cortese. (Translated by Google) I have been buying their honey for a few years, very good and I have never had "problems", the store is welcoming and the property has always been helpful and courteous.
Cri Carra
18 September 2019
Il miele di sulla decisamente superiore. (Translated by Google) Honey on top definitely.
Francesco Scala
27 August 2019
Produttore di un ottimo miele di varie qualità, più dolciumi di miele. (Translated by Google) Producer of an excellent honey of various qualities, plus honey sweets.
fiore antonio nuzzolo
15 August 2019
Ottimi prodotti, cortesia e professionalità (Translated by Google) Excellent products, courtesy and professionalism
Ivan Scudiero
18 July 2019
Luogo molto accogliente. Grande fantasie e variegatura di prodotti. Personale preparato e sorridente. Lo consiglio a tutti coloro che vogliono provare prodotti Naturali. (Translated by Google) Location very welcoming. Great fantasies and variegation of products. Staff prepared and smiling. I recommend it to all those who want to try natural products.
Amalia De Santis
28 June 2019
Ottimo miele e gentilezza (Translated by Google) Excellent honey and kindness
Carmine Nasti
9 June 2019
Azienda che fa' della qualità della materia prima e della passione per il prodotto la sua vocazione e tradizione: eccellenze da provare e da gustare! Ultraconsigliato! (Translated by Google) Company that makes the vocation and tradition of the quality of the raw material and the passion for the product: excellences to try and taste! Gorgeous boutique!
Gianni Caruso
21 May 2019
Conosco questo miele da tanti anni, lo ha sempre comprato mio padre. Ho scelto ora di fare dei barattolini come dono di ringraziamento per il primo compleanno della mia bimba. Oltre alla bontà, la gentilezza e la cortesia sono le loro qualità. Rossella è garbatissima. (Translated by Google) I've known this honey for many years, my father always bought it. I have now chosen to make jars as a thank-you gift for my baby's first birthday. In addition to goodness, kindness and courtesy are their qualities. Rossella is very kind.
Rosa Censullo
20 May 2019
Miele solo di alta qualità, c'è l'imbarazzo della scelta per la varietà dei gusti, le confezioni regalo poi per le occasioni speciali e per regali originali, sono bellissime. (Translated by Google) Only high quality honey, you are spoiled for choice because of the variety of tastes, the gift packages for special occasions and for original gifts are beautiful.
Barbara Frusciante
16 May 2019
Azienda che offre prodotti naturali e di qualità (Translated by Google) Company that offers natural and quality products
Amelia Sateriale
16 May 2019
Artemide è stata una dolce sorpresa Ho conosciuto questa azienda per un evento molto importate cioè il mio matrimonio Ho avuto L opportunità di confrontarmi con Rossella che mi ha saputo accontentare e graziee alla sua passione e creatività mi ha realizzato un tris molto particolare di miele di ottima qualità ... la ciliegina sulla torta è stata una candela alla cera d api che io ho utilizzato come segna posto .... il solo profumo ha conquistato tutti ... Consiglio a tutti di assaporare tutti i loro mieli ma in particolare il miele alla sulla ed eucalipto per non parlare della loro grappa al miele super Complimenti a tutto lo staff di Artemide 🐝 E grazie per la vostra professionalità e la vostra gentilezza ...... una bacio (Translated by Google) Artemide was a sweet surprise I met this company for a very important event, my marriage I had the opportunity to confront myself with Rossella who was able to satisfy me and thanks to her passion and creativity she made me a very special trio of high quality honey ... the icing on the cake was a beeswax candle that I have used as a place mark .... the only fragrance has conquered everyone ... I recommend everyone to taste all their honeys but in particular honey on the eucalyptus not to mention their super honey grappa Congratulations to all the staff of Artemide 🐝 And thank you for your professionalism and kindness ...... a kiss
Roberta Coviello
16 May 2019
Prodotti eccellenti! (Translated by Google) Excellent products!
Carmen Ambrosino
16 May 2019
Materia prima di ottima qualità e genuina, miele delizioso da gustare ed utilizzato in modo eccellente anche per i prodotti della cura della pelle (saponi, creme) Straconsigliato!!! (Translated by Google) Top quality raw material and genuine, delicious honey to be enjoyed and excellently used also for skin care products (soaps, creams) Straconsigliato !!!
Giusy Manetta
16 May 2019